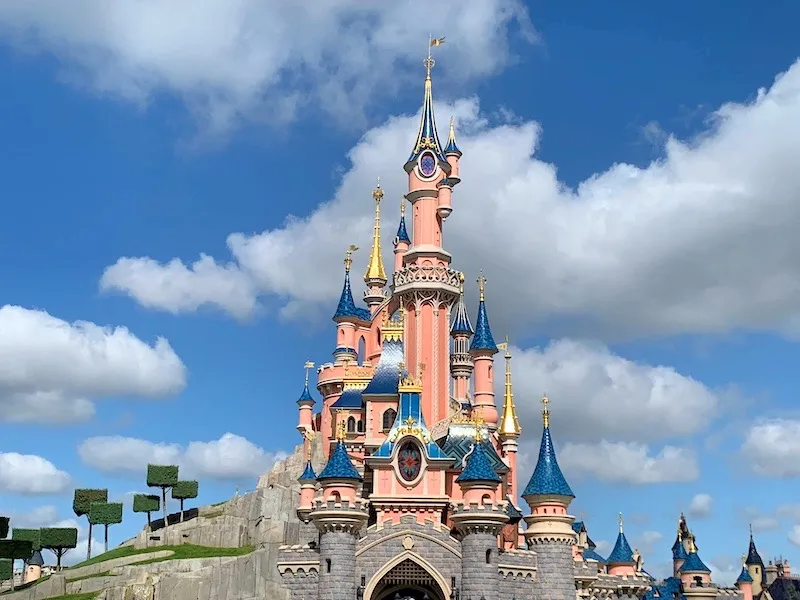 Disneyland Paris: Our Full Review and Best Tips!
Posted on |
My husband and I love all things Disney, and we've visited Walt Disney World and Disneyland more times than I can count. (I tried to add up our visits, but quickly gave up!) Because we have family living on both coasts of the United States, we frequently add on a trip to Disney when visiting relatives. We even ran the infamous Dopey Challenge, which consisted of 4 races that totaled up to 48.6 miles through Walt Disney World. (You can read all about our race experience here!) When we had the chance to visit France this year, we quickly added Disneyland Paris to our itinerary. We were curious how much our Disney parks knowledge would translate to the Paris park. It turns out that we had a lot to learn! In this article, we're sharing our best tips for visiting Disneyland Paris, so that you can make the most of your own magical vacation!
Disneyland Paris
Disneyland Paris consists of two theme parks (Disneyland Park and Walt Disney Studios), Disney Village, and the on-site Disney hotels.
Disneyland Park (What we Refer to as Disneyland Paris)
For the rest of this article, we'll refer to Disneyland Park as Disneyland Paris, in order to easily differentiate it from Disneyland in California.
When you walk into Disneyland Paris, you'll get to explore the following lands:
Main Street, USA
Frontierland
Adventureland
Fantasyland
Discoveryland
Walt Disney Studios
Walt Disney Studios consists of the following components:
Front Lot
Toon Studio
Worlds of Pixar
Production Courtyard
Marvel Avengers Campus
About Disneyland Paris
We recommend making time to visit both theme parks. We also recommend staying at one of the Disney hotels. It's so convenient to be able to walk or take the shuttle to the park entrances each day.
Disneyland Paris was built in 1992, and it recently celebrated its 30th anniversary. (We were there for the anniversary celebration!) When it first opened, Disneyland Paris was named Euro Disney, but they changed the name because it wasn't too appealing for Europeans.
Nearly 10 million people visited Disneyland Paris in 2019, which is more than any other attraction in France (including the Eiffel Tower, Louvre, or Palace of Versailles). With that many people visiting Disneyland Paris, it's important to make your reservations and have a solid game plan!
Disney Movies Set in Paris
One thing we really liked about visiting Disneyland Paris is the fact that so many Disney movies are set in Paris! These include:
Ratatouille (2007)
The Hunchback of Notre Dame (1996)
Beauty and the Beast (1991)
The Aristocats (1970)
Sleeping Beauty (1959)
Cinderella (1950)
We didn't realize there were so many Disney movies that take place in France until we started counting them up! There are also scenes from France in Monsters Inc and Cars 2.
Disneyland Paris Maps
We recommend downloading the app in advance, because you'll need to use it to find a map of the park. Inside the park, there are QR codes that will also link to the map. When we visited in 2022, we only found a couple of places that offered brochure paper maps of the parks. We had to rely heavily on our phones for navigation. We also read that starting in September 2022, Disneyland Paris is phasing out the paper maps.
Where to Stay in Disneyland Paris
Disneyland Paris has 7 primary hotels on property:
Disney Newport Bay Club
Disney Hotel Cheyenne
Disney Sequoia Lodge
Disney Hotel Santa Fe
Disney Davy Crockett Ranch
We wrote an in-depth post about the best hotels near Disneyland Paris here. If you're looking for accommodations, we recommend that you check out that post!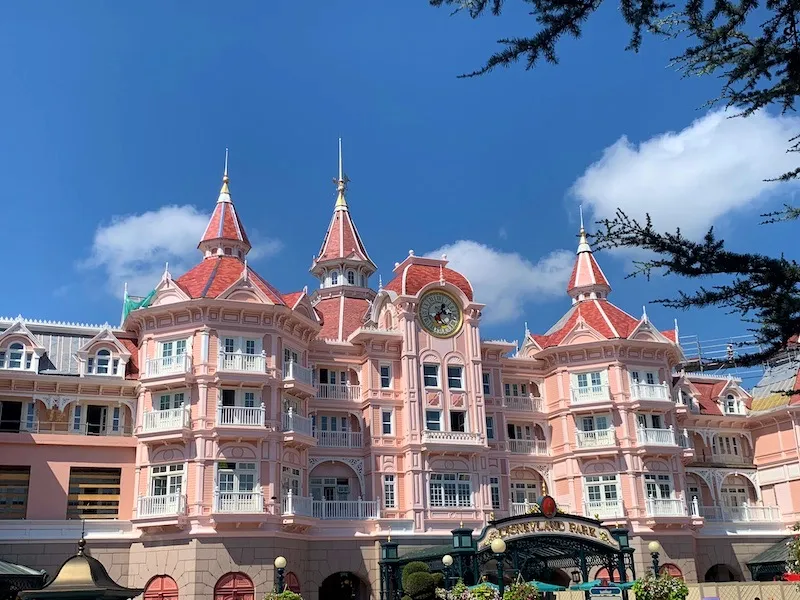 We stayed at the Disney Sequoia Lodge, which we liked quite a bit. When we originally planned this trip, we were going to stay off-property. I'm so glad we changed our minds and decided to book a Disney property.
The Disney Sequoia Lodge was just a short 10-minute walk to the park entrance. It was very convenient to walk to the park each day, and we didn't feel like it was too much trouble.
One of the things that we liked best about this hotel was the fact that there were character meet-and-greets within the hotel. Instead of spending an hour to see Mickey Mouse in the park, we were able to take photos with him right in our hotel! We also took photos with Goofy and Pluto. It appeared that there was a different character every morning.
The hotel also had a pool, which we didn't use because we spent every minute we could exploring the parks.
We enjoyed the breakfast buffet, and we loved the theming! Our room had photos of Bambi and friends on the wall.
Overall, we enjoyed our stay at Disney Sequoia Lodge and would recommend it to others.